Zuhir Bodalal (Elkarghali), MD MSc #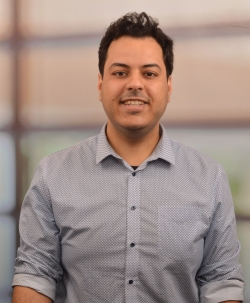 Research Interest #
Noninvasive exploration of tumour biology and micro-environment, using a variety of methods from molecular imaging, machine learning, and (big-)data science. Sitting daily at a round table with doctors, biologists, and engineers.
Education #
2007-2014 MD in Medicine and Surgery, limu.edu.ly;
2015-2017 MSc in Oncology, vu.nl;
2017-2022 PhD in Artificial Intelligence in Cancer Imaging, maastrichtuniversity.nl. Supervisors: Prof. Regina Beets-Tan.
Work experience #
2014-2015 Focal Point Researcher, World Health Organization who.int;
2014-2015 Research assistant, Benghazi Medical Center
2016 Research assistant/Intern, Dept. of Medical Oncology, vumc.nl
2017 Research assistant/Intern, Dept. of Molecular Oncology and Immunology, nki.nl;
2017-2022 PhD Student, Dept. Radiology, nki.nl;
Publications #
Zuhir Bodalal et al. "The future of artificial intelligence applied to immunotherapy trials ". Chapter In: Andrea Necchi and PhilippeE. Spiess (Eds): Neoadjuvant Immunotherapy Treatment of Localized Genitourinary Cancers (2022)
Zuhir Bodalal et al. "Radiomics in immuno-oncology". In: Immuno-Oncology Technology 9(2):100028 (2021)
Zuhir Bodalal et al. "Radiogenomics: bridging imaging and genomics". In: Abdominal radiology 44 (6), 1960-1984 (2019)
Zuhir Bodalal, Stefano Trebeschi, and Regina Beets-Tan. "Radiomics: a critical step towards integrated healthcare". In: Insights into imaging, 9.6 (2018), pp. 911–914
Promotions & Alumni #
MSc in Technical Medicine (University of Twente) #
Kevin Groot Lipman developed a deep learning algorithm to imitate the legal, mediacal assessment of asbestosis. Kevin's graduation project was supervised in a collaboration between Radiology (Stefano, Thierry and I) and Thoracic Oncology (Dr. Sjaak Burgers). His work was awared with the highest grade (10/10). He is currently persuing a PhD in our department within the research line of prognostic monitoring. His MSc Thesis - News Article
MSc in Oncology (Vrije Universiteit Amsterdam) #
Olga Maxouri was our first student whose main focus was the development of our department's 19F MRI capabilities. Within this research line, we experimented with 19F phantoms and mice injected with nanoparticles with the goal of visualizing macrophages in the tumour microenvironment.
Links #